Gamuda's response to COVID-19: Maintaining a culture of safety during a global pandemic
25 Mar 2021 | Ben Kirkbride (Head of Health, Safety, Environment and Quality)
Ben Kirkbride discusses the resilience Gamuda has shown in adapting to a new way of life and the processes it has put in place to keep its employees safe.
When the Coronavirus (COVID-19) pandemic hit Australia, we all learnt to do things a little bit differently. As Head of Health, Safety, Environment and Quality at Gamuda Australia, that meant ensuring our team was safe and supported no matter where they were working – be that from home or in the workplace.
While we have been very fortunate in Australia compared to many other countries, the COVID-19 situation has been much more acute in Malaysia.
Health and safety is an integral part of Gamuda's operations, and their response to COVID-19 is a demonstration of this. In addition to increased frequency of workplaces cleaning, temperature checks, hand hygiene practices, physical distancing, and contact tracing when required, Gamuda led an industry-first response, opening its own bespoke state-of-the-art polymerase chain reaction (RT-PCR) testing laboratory to support COVID-19 testing and monitoring amongst its workforce.
The lab provides fortnightly testing for the group's 20,000 workforce, including the MMC Gamuda Joint Venture that's building the country's first mass rapid transit (MRT) system, playing a crucial role in increasing the rate of COVID-19 screening. This was vital to protecting Gamuda's people so they could continue to deliver key infrastructure projects in Kuala Lumpur.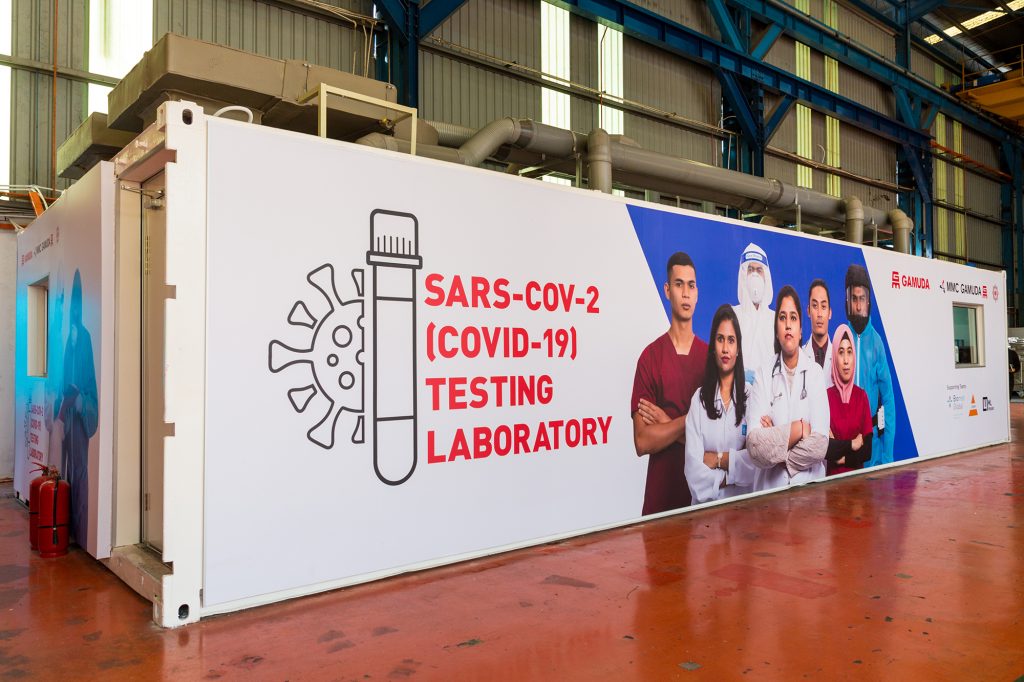 Gamuda's COVID-19 crisis management response also extended to the four centralised labour quarters (CLQ) in the Klang Valley. A Centralised Quarantine Quarters (CQQ) / quarantine blocks were constructed within each of the four CLQ to allow workers to self-isolate when required. The workers undergo isolation within the facilities under the supervision of medical professionals. By managing our own asymptomatic cases, we are simultaneously reducing the burden on the public healthcare system. To minimise the need for movements, a shop, barber and medical clinic were set up on the accommodation facility, with laundry services remaining free for all workers.
Back home in Australia, we were lucky to continue a relatively normal way of life, with some changes.
With many of the team adapting to working from home for the first time, supporting a smooth transition to remote working and prioritising employee health and safety required a coordinated effort across the business. Led by our Executive Director Yew-Weng Yee (Ewan) and alongside Head of Human Resources Sianne Bennett, we formed the COVID-19 Steering Committee to manage the risks associated with the pandemic.
The committee's key priorities included implementing our pandemic response plan in line with the Government's health advice. We made sure all team members could work safely from home and maintain open communication channels within the business.
We also facilitated a virtual mental health and wellbeing session to positively support our people and alleviate stress.
When it was safe to do so, we began a gradual return to the office. We went above and beyond to ensure we were providing the safest possible environment for our employees, visitors and contractors. This included integrating an app based (@TIKS) registration for everyone entering and leaving the office, a revised workplace design that incorporated social distancing measures, temperature checks and sanitisation stations, all overseen by the COVID-19 Steering Committee.
The pandemic continues to be a steep learning curve for all of us. I am especially proud of how well the team in Australia has worked together to overcome these challenges, including remote working and adapting to a new normal. Our people have shown remarkable resilience.
Globally, Gamuda's response to COVID-19 has been a demonstration of our commitment to health and safety.
Ben Kirkbride is the Head of Health, Safety, Environment and Quality for Gamuda Australia.